If you are looking for a unique and fun butterfly tattoo design, we strongly recommend considering the 3D style. Tattoos created in this style have a realistic look and incredible visual effects. You might think that such rhetoric is a bit exaggerated. But what we cannot deny is that even the minimalist mini 3D black and white butterfly tattoo design is impressive enough. No matter how the trend of tattoo art changes, butterfly tattoos always have high popularity. Not only that but it is also considered to be one of the best types of women's tattoos. If you have decided that the next tattoo is a butterfly, you should not miss the 3D style.
Modern tattoos are not only meaningful, but many people use them to express personalization. So I think this is one of the reasons why 3D butterfly tattoos are worth considering. From stunning medium-sized color tattoo designs to elegant and low-key little butterflies, everyone can get the one that suits them best.
1. 3D butterfly tattoo on ankle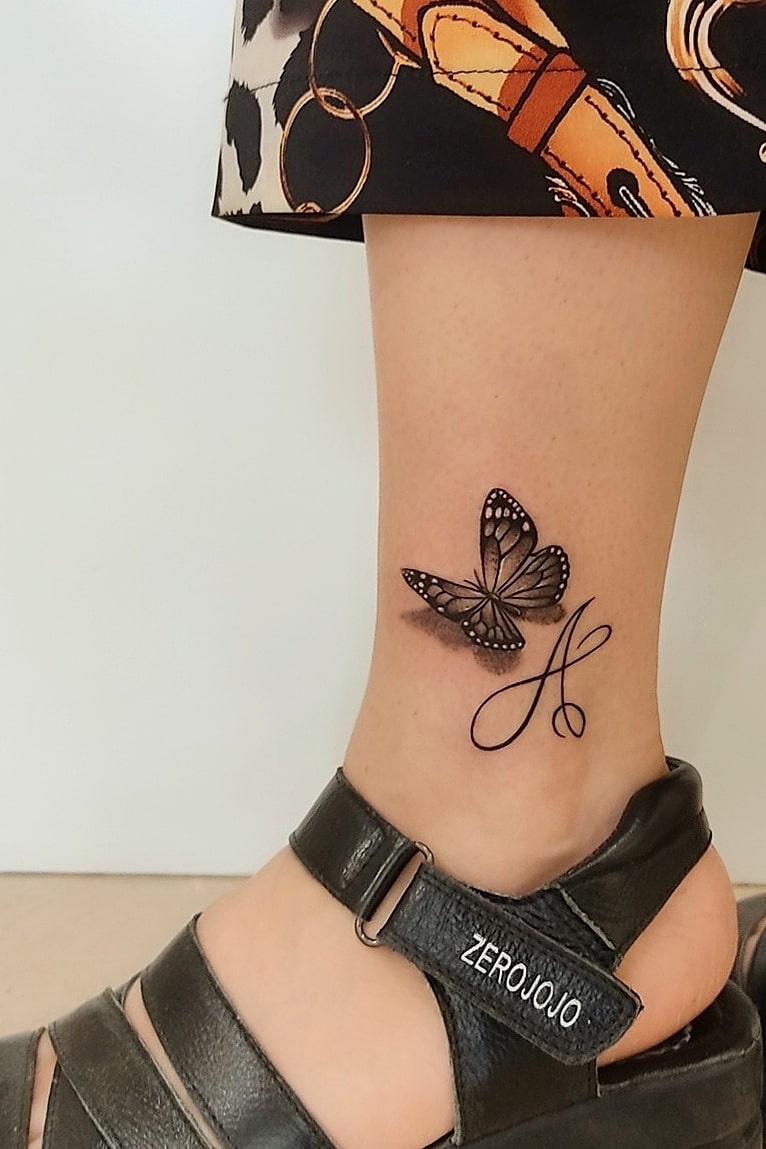 If you already have other tattoos on your wrist, are you looking for a body place with the same effect? Please think about the ankle.
2. Colorful 3d butterfly tattoo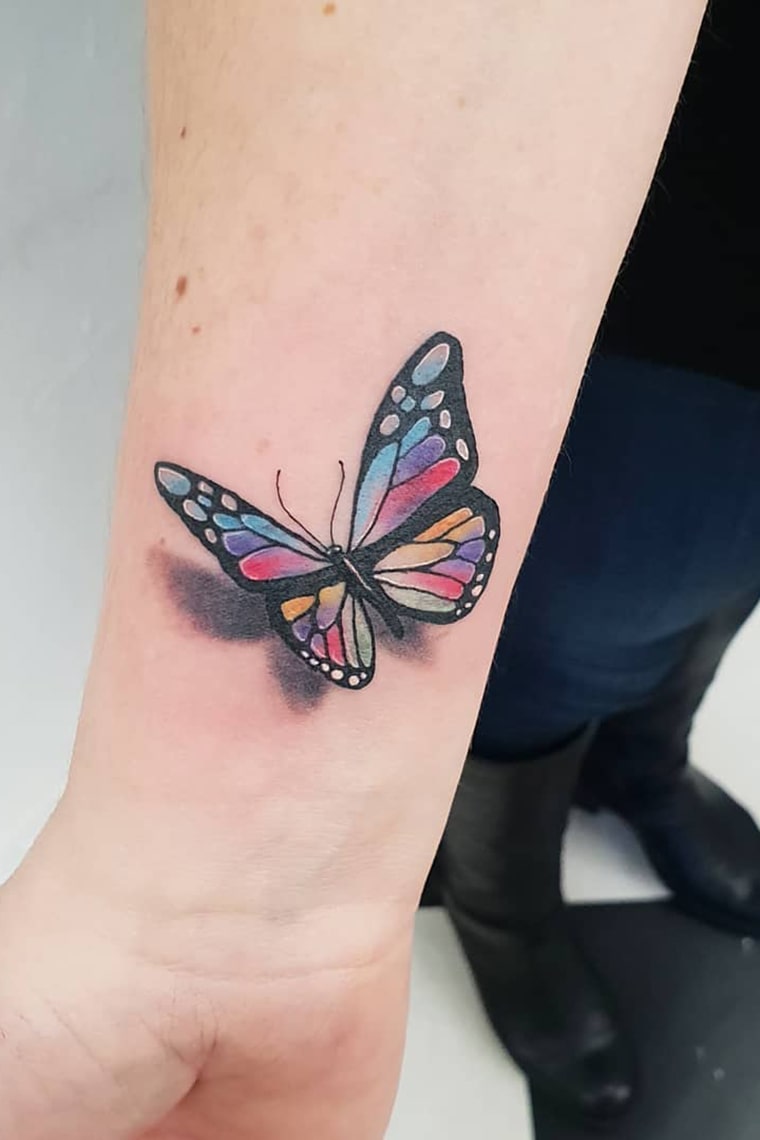 Combine multiple colors in proportion to make your 3D butterfly tattoos fun. The advantage of this design method is that it can be personalized.
3. Three 3d butterfly tattoo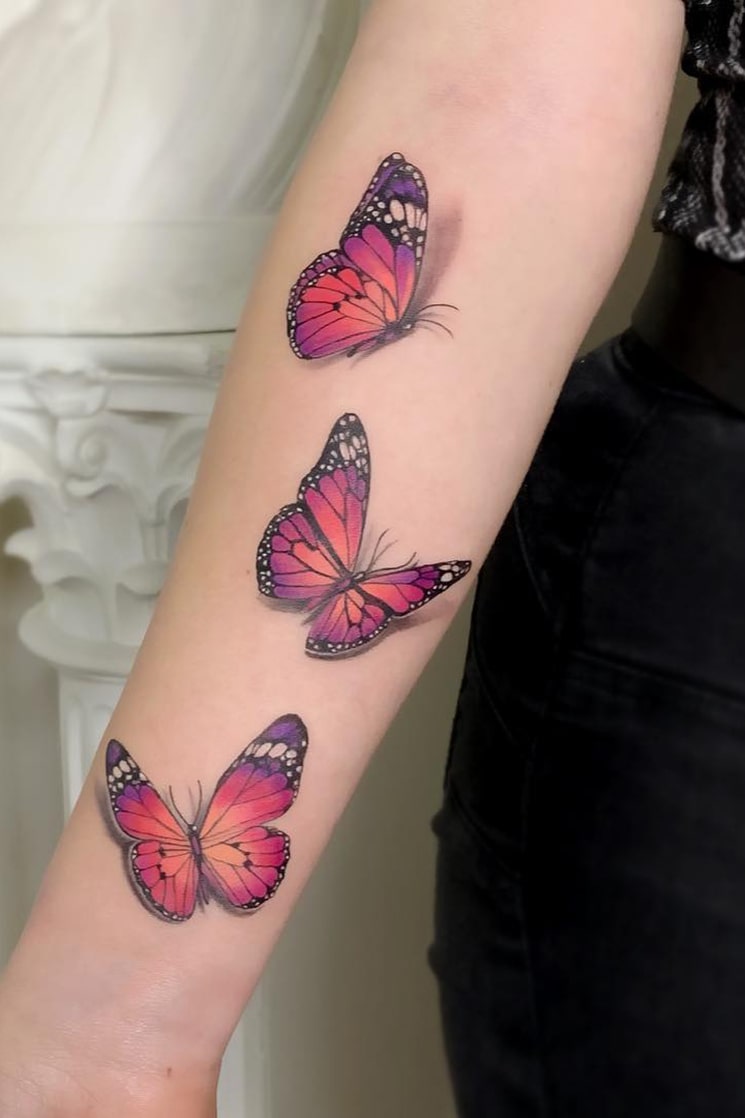 Three butterfly tattoos are a common and popular combination design, which has a deep meaning. After matching this style, its visual effect has been upgraded by at least one level.
4. 3D butterfly tattoo on foot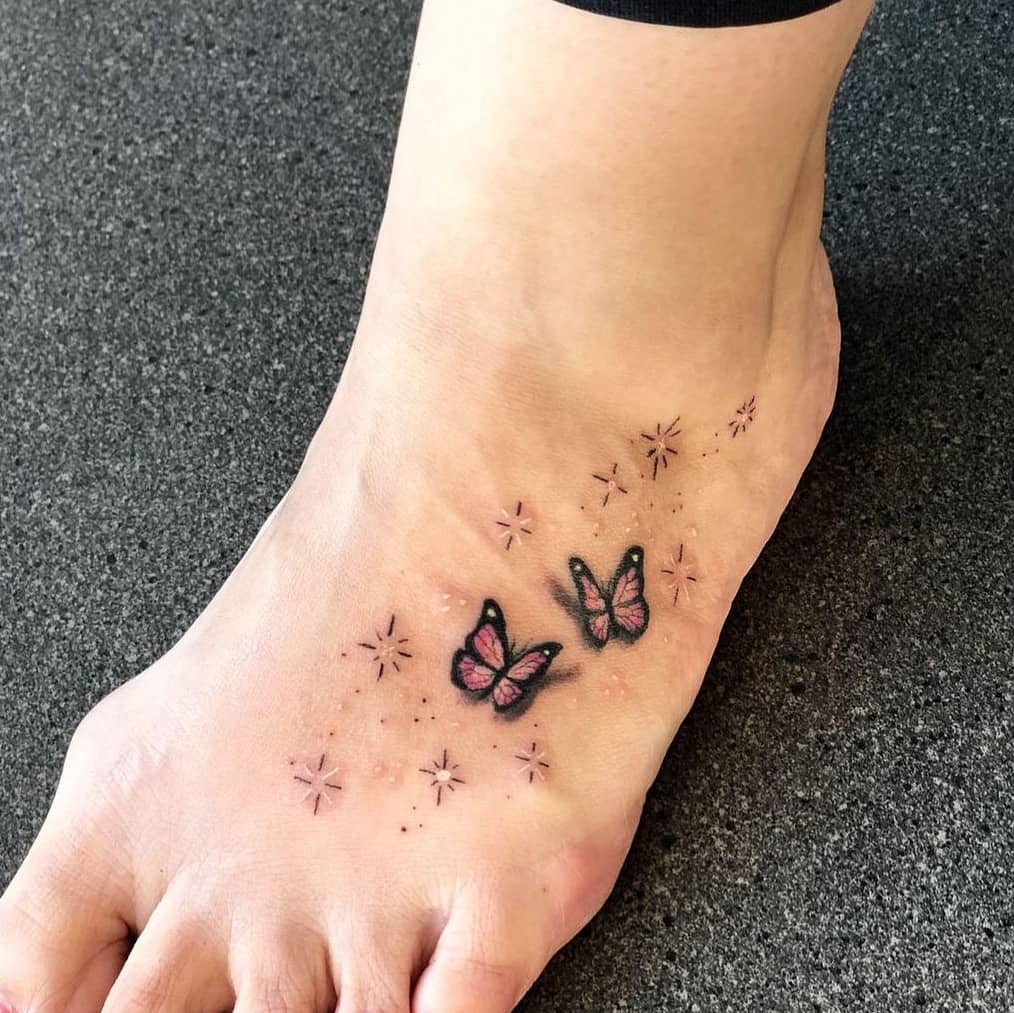 The feet are the same as the hands. They are the most attractive body parts for women. When summer comes, we will wear sandals, this is the best time for us to show our feet. Choosing delicate anklets for decoration is a good choice. But I think the charming 3D butterfly tattoo might be more worthwhile. It will serve as a permanent jewel to make your feet more eye-catching. Compared with the tattoo on the hand, it is easier to hide.
5. Purple 3d butterfly tattoo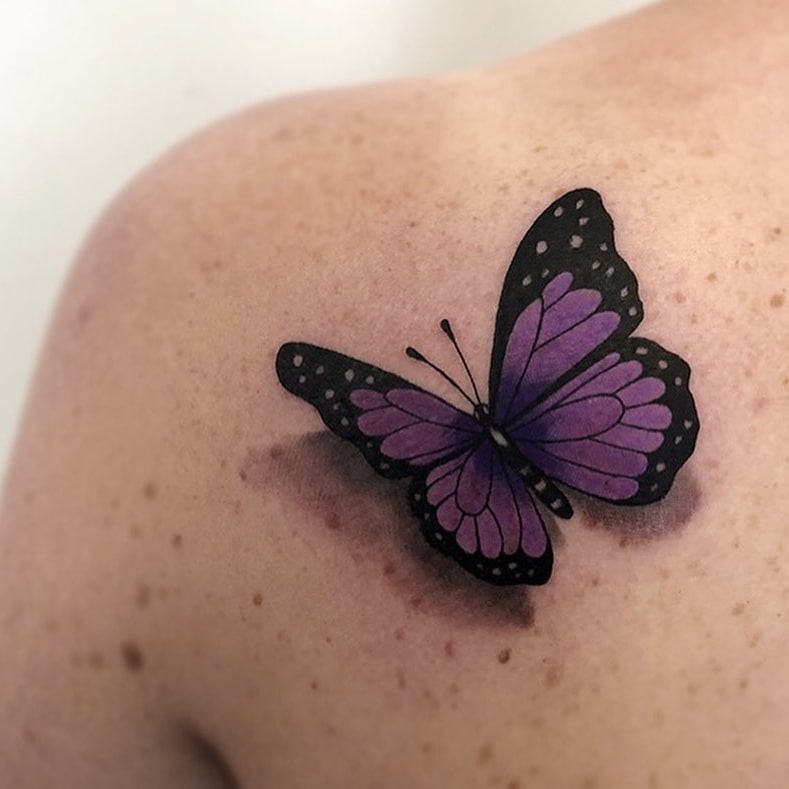 No one would refuse the dreamy design appearance, just like no one would hate a purple butterfly. The 3D style gives it a new lease of life. The person wearing this tattoo must be romantic and innocent.
6. Realistic 3d butterfly tattoo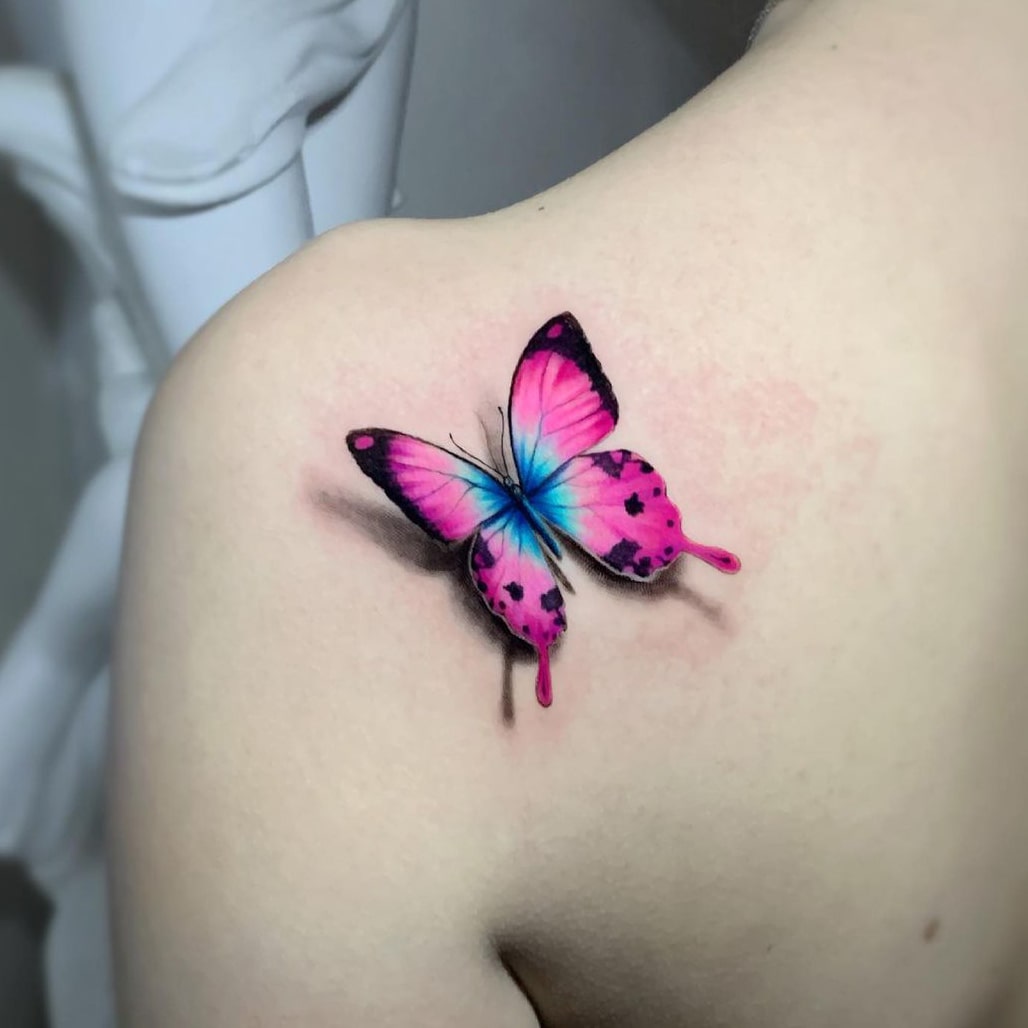 3D butterfly tattoos are infinitely close to reality, and the realistic style pushes this visual effect to the top.
7. Yellow 3d butterfly tattoo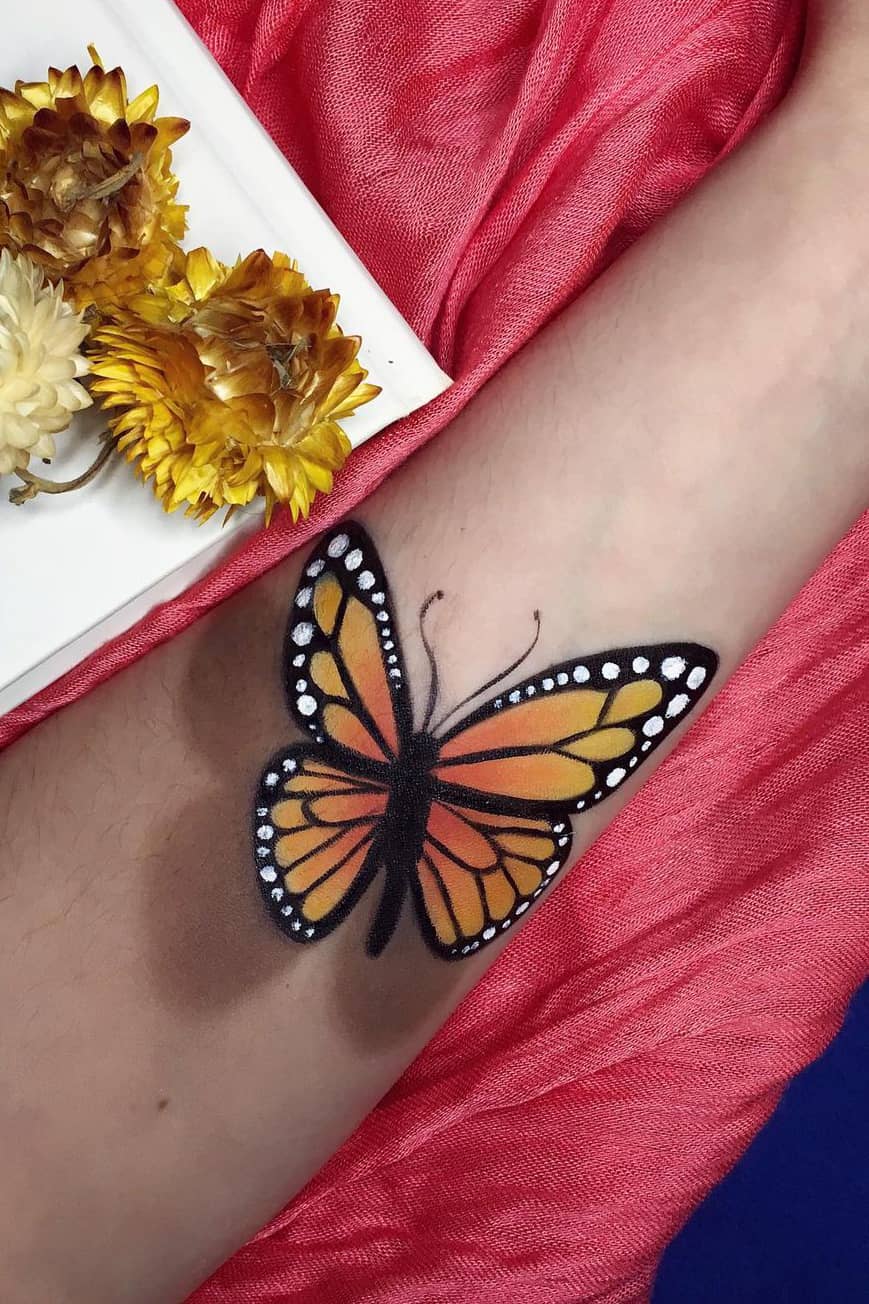 The inspiring yellow color makes the 3D butterfly tattoo more lively and full of energy. To make the design three-dimensional, please incorporate some gradient styles. The white dots outline the outline of the butterfly and light up the overall appearance.
8. Pink 3d butterfly tattoo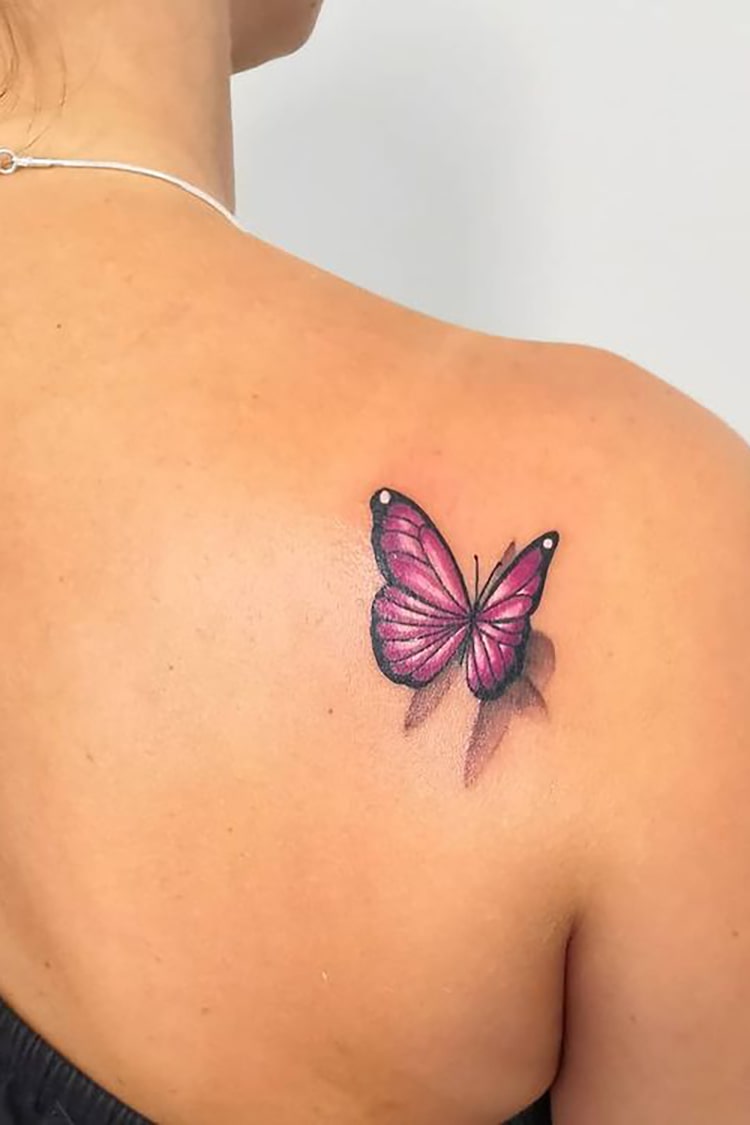 The butterfly symbolizes feminine charm, and pink enhances this attribute. This color tattoo design is gorgeous and exciting. And it also implies a good life.
9. Small 3d butterfly tattoo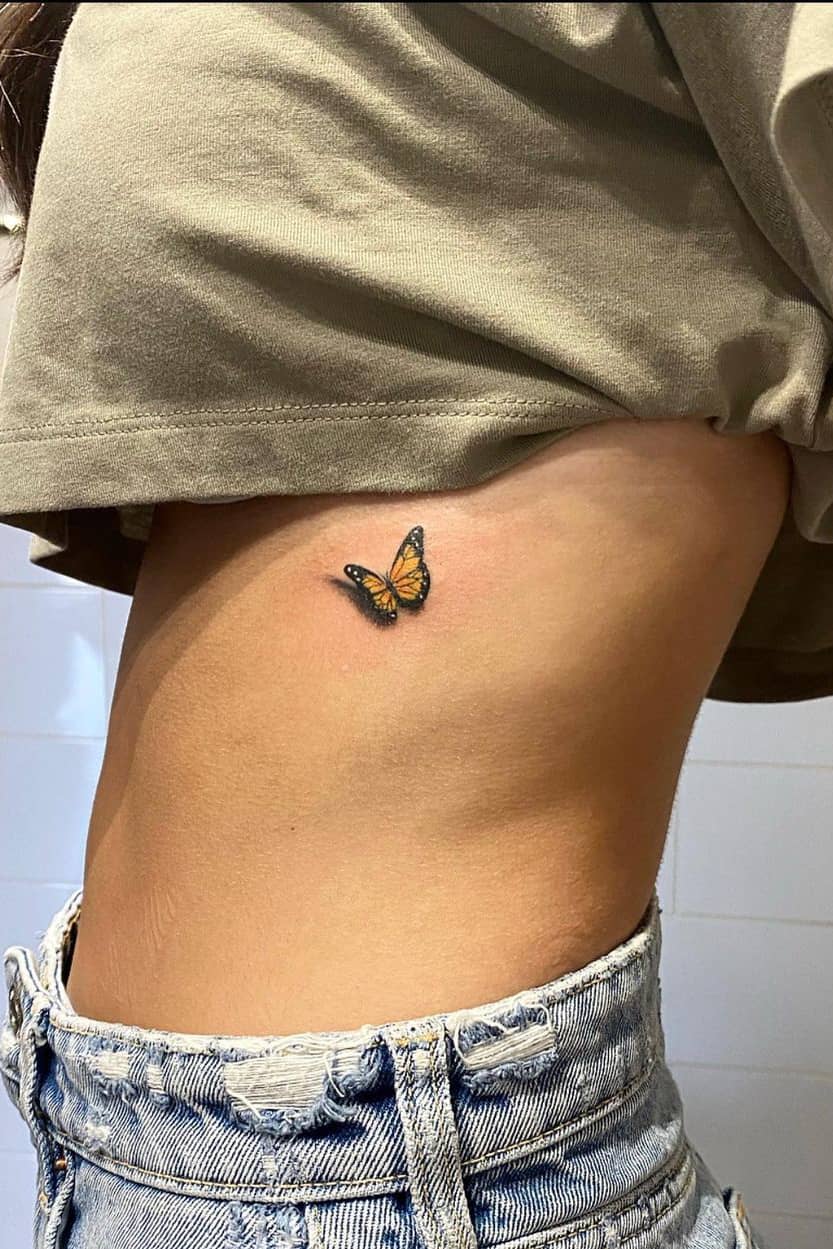 Although the size is small, it can still have rich design details. You can place it wherever you like on your body, but the wrists, hands, flanks, and behind the ears are usually the best areas. Everyone knows how hot a small tattoo is. Therefore, it is also the first choice for people who use ink for the first time.
10. 3D butterfly tattoo on shoulder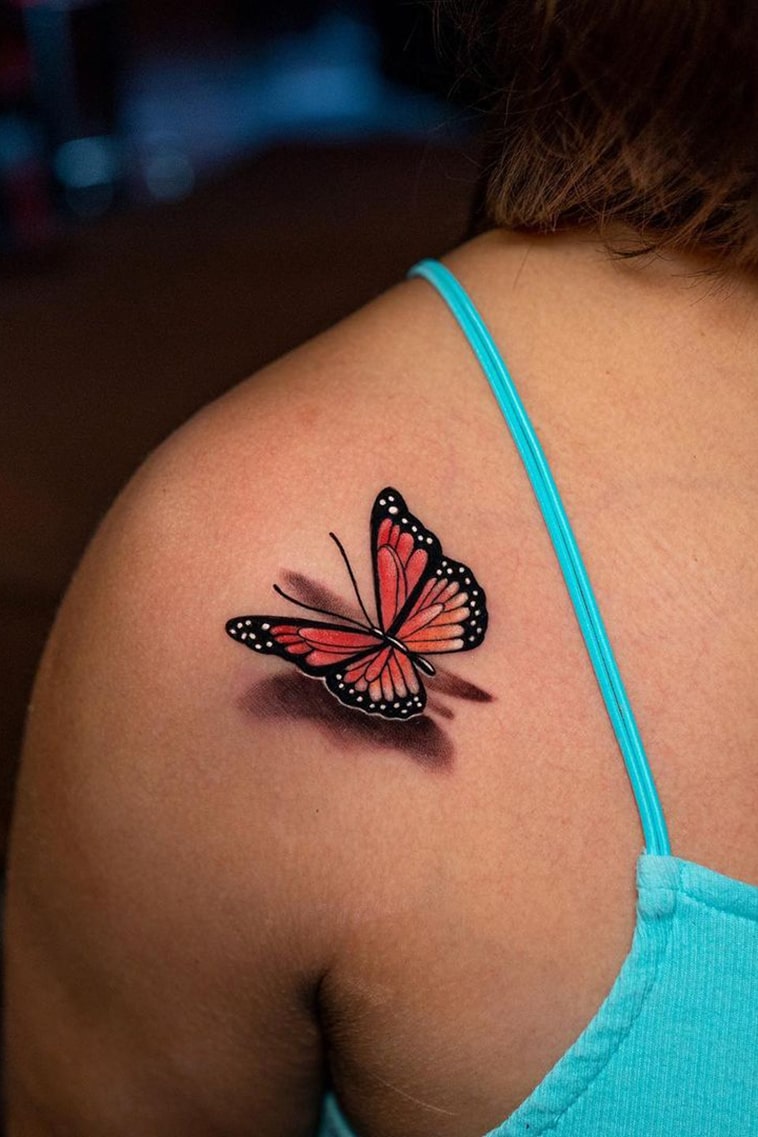 Such a vivid appearance is like a real butterfly sitting on the shoulder. If the place is moved up a bit, I think the effect will be more perfect.
11. Black and white 3d butterfly tattoo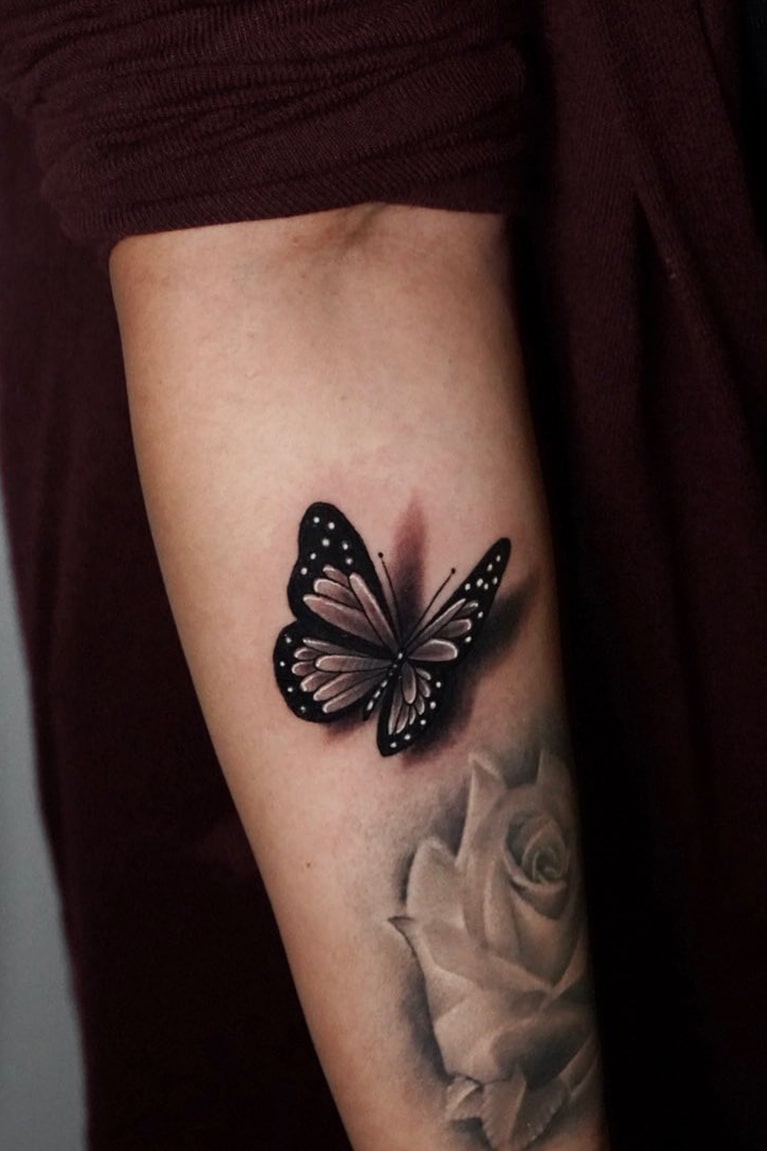 Classic color matching will never go out of style! The design still ensures simplicity while giving people some visual impact. Black and white create simple details, and the white part of this tattoo design looks like a flower again. Incredible creativity! Create an impressive look through the basics.
12. Blue 3d butterfly tattoo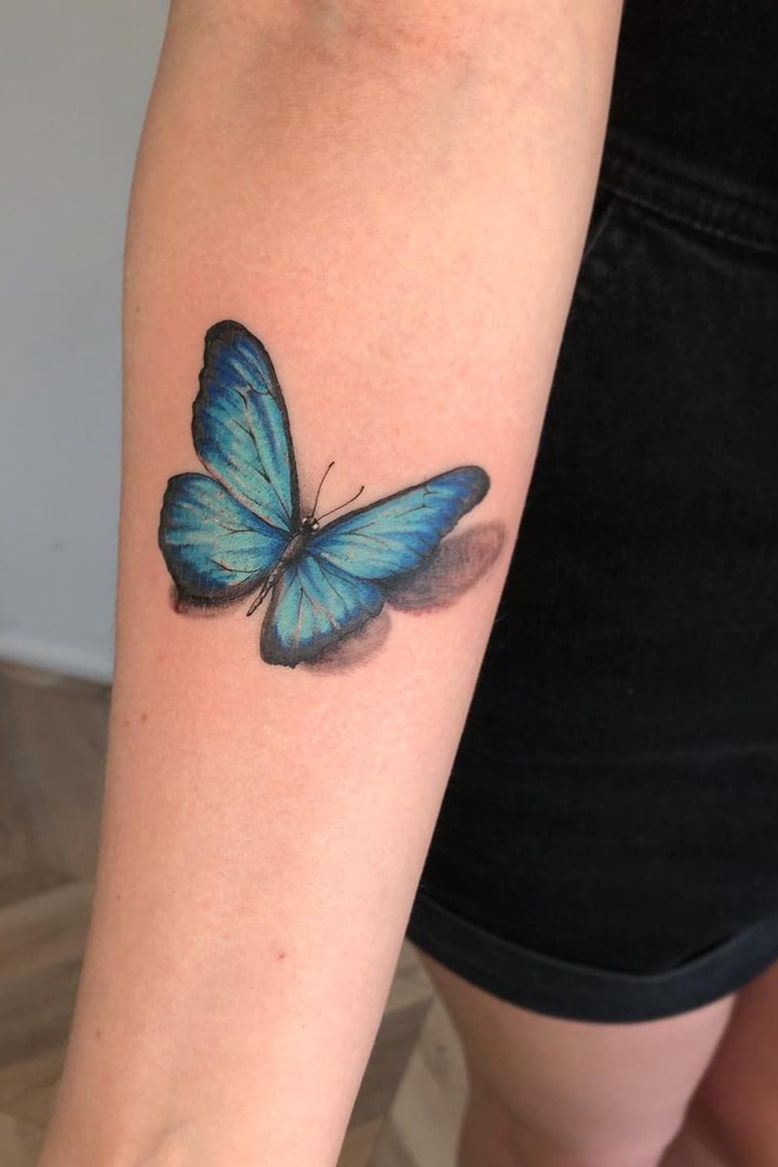 The blue butterfly may be the common choice of most people, and it is considered one of the most attractive species. People who wear it are generally thought adventurous.
13. 3D butterfly tattoo with flowers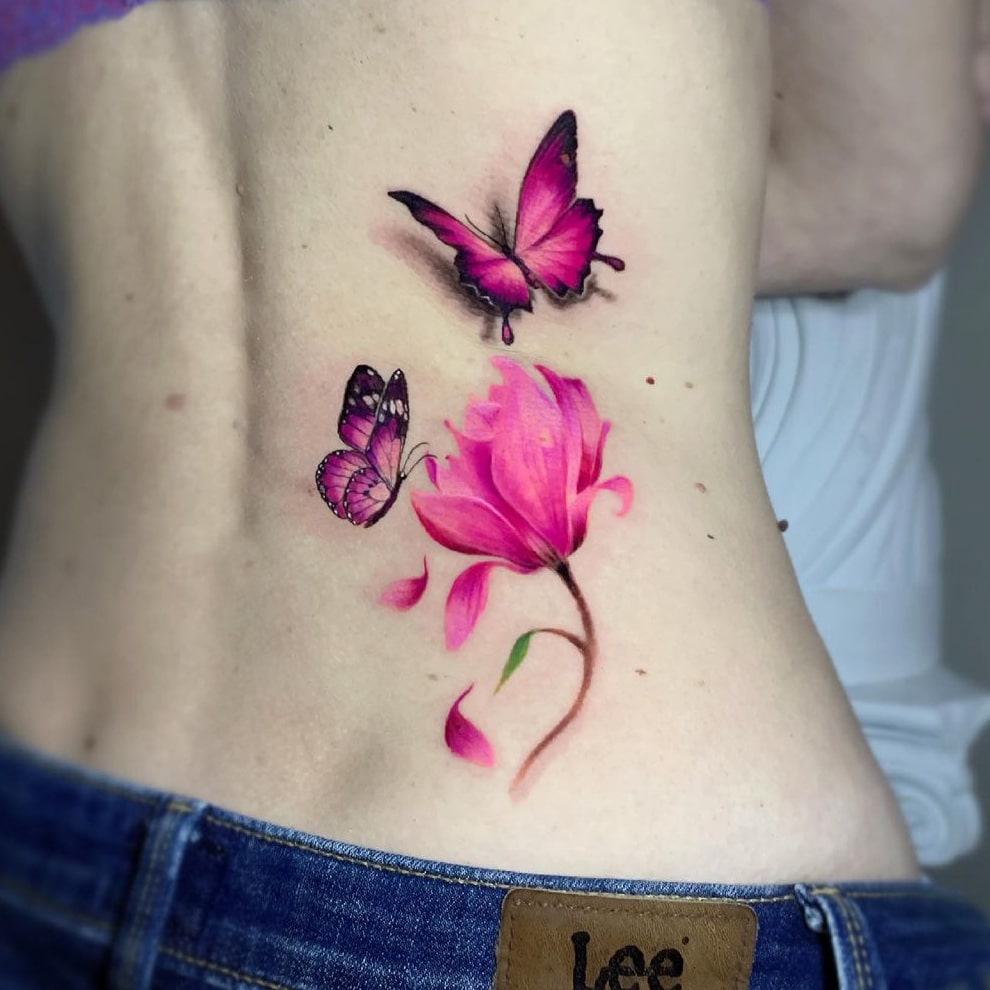 Butterflies can be matched with almost any design element. Its combination with flowers makes the tattoo design more feminine. This idea uses both 3D and 2D styles, which is a simple but easy way to create a creative look. The lively design makes the person wearing it more attractive.
14. 3D butterfly tattoo on arm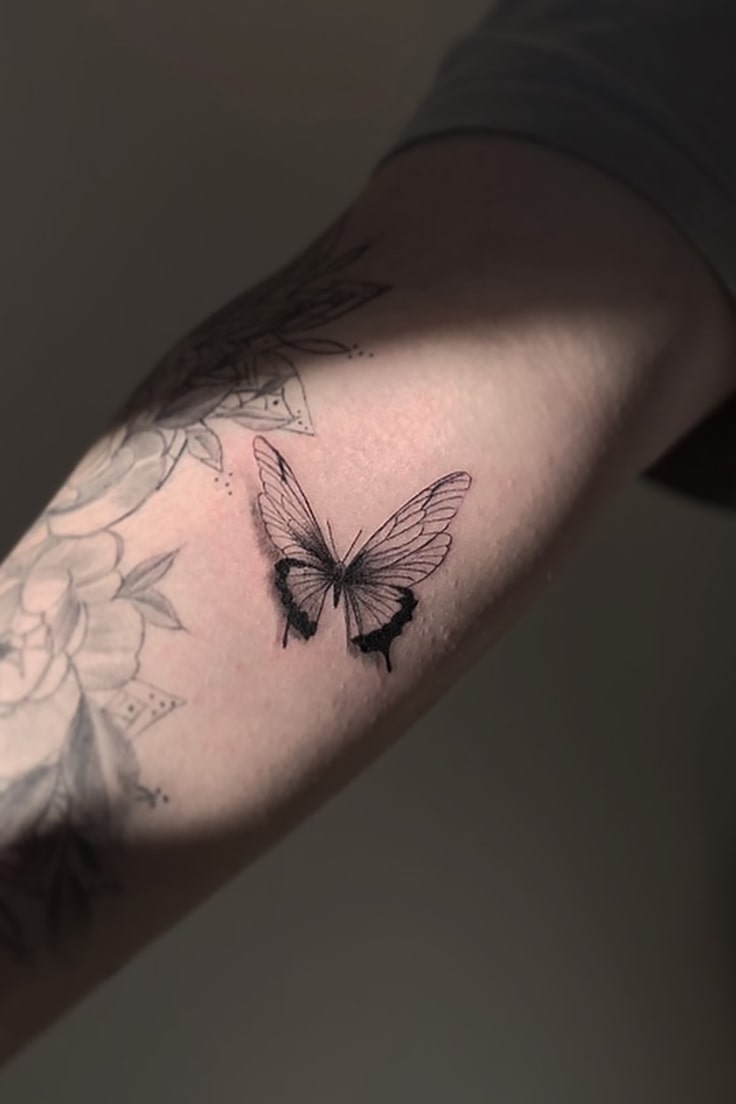 The 3D butterfly tattoo placed here will definitely make you stand out from the crowd. If your tattoo is large in size and has more design details, the arm is the ideal place.
15. 3D butterfly tattoo on leg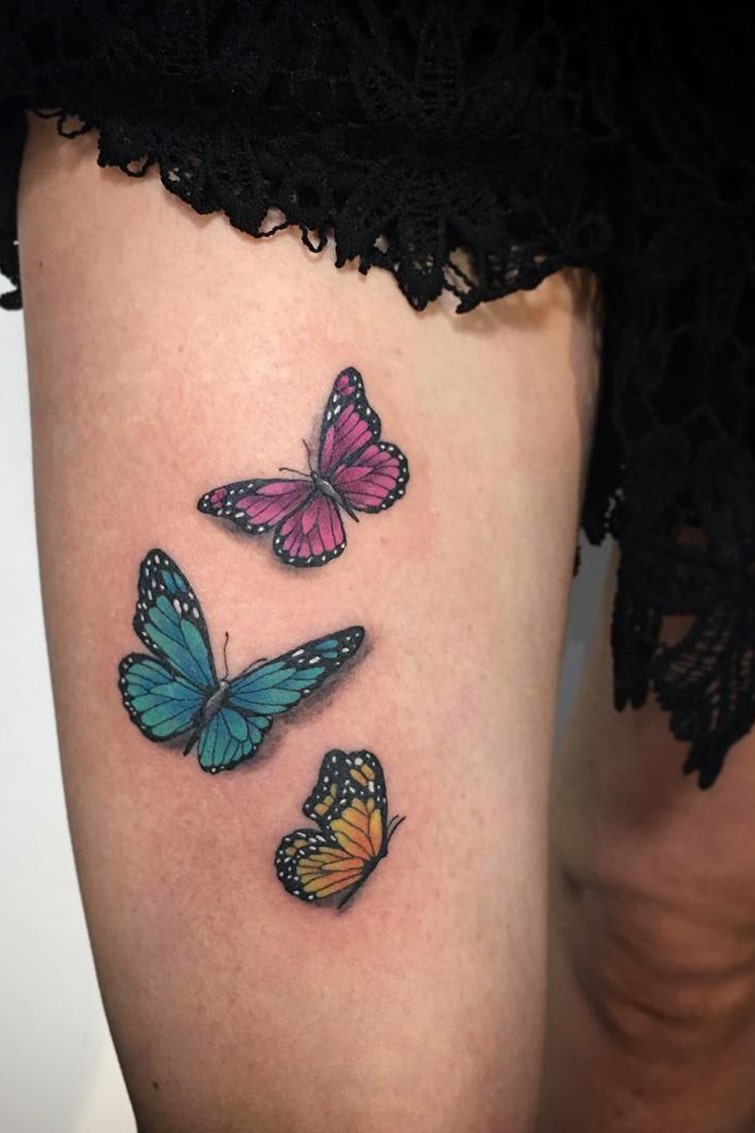 Smaller-sized tattoos will look too dull here, so a large-sized 3D butterfly tattoo is the right choice. It is worth mentioning that tattoos on the legs can make you sexier.
16. 3D butterfly tattoo on wrist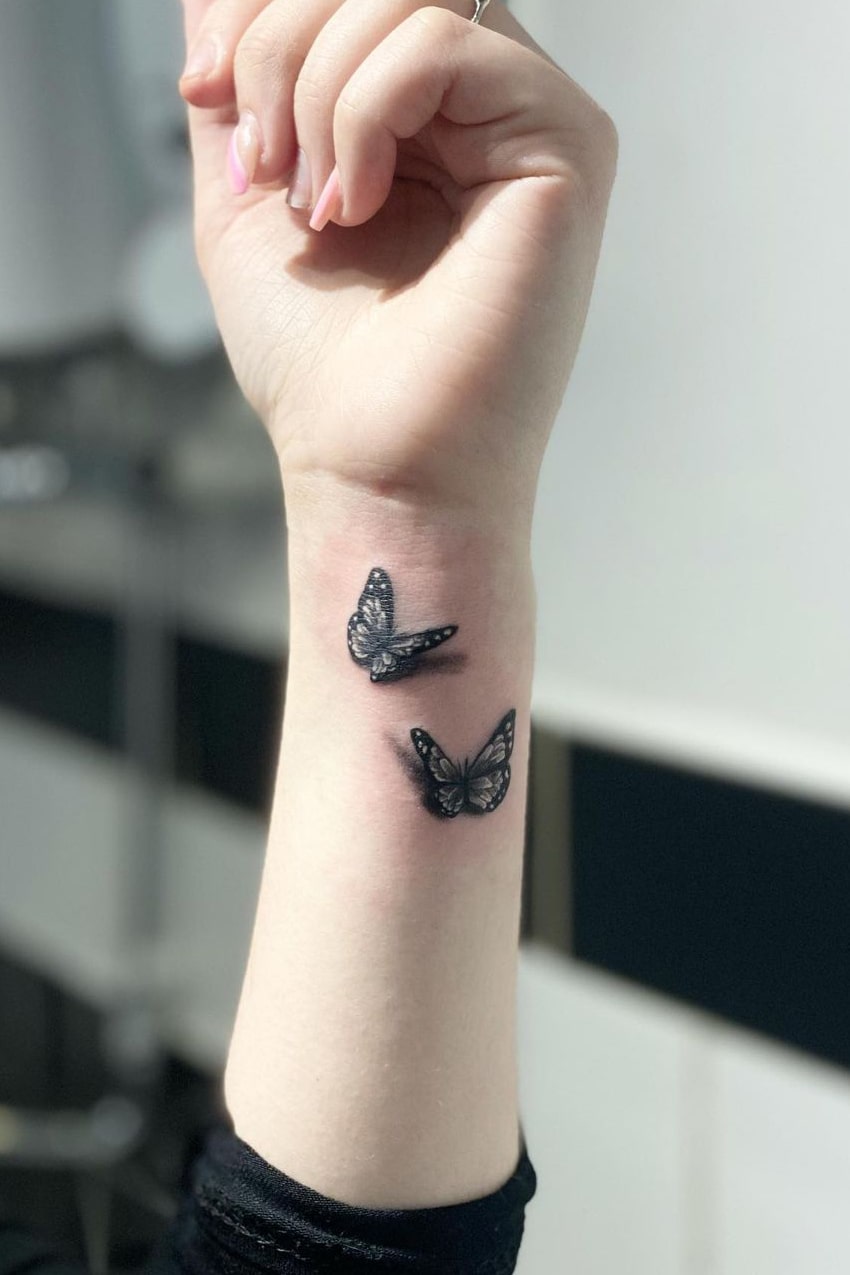 Gorgeous and fun design! No matter what kind of tattoo theme, when it is placed on the wrist, its appearance is always exquisite.
FAQs
Are 3D butterfly tattoos worth getting?
Compared to other tattoo styles, 3D styles may be niche and unique. You can see many butterfly tattoos, but you can rarely see those with this style. Do you want to show your personality and stand out from the crowd through butterfly tattoos? Then it is very worthwhile for you.
How much does a 3D butterfly tattoo cost?
3D butterfly tattoos are just a style design, not a new way of tattooing. Therefore, its charging standard is the same as that of a regular butterfly tattoo. According to the size of the tattoo, the difficulty of inking, and different tattoo artists, the price fluctuates widely. It may cost up to $500. Not only that, most tattoo shops have a minimum consumption, so the minimum cost is $50.
What is the best color for 3D butterfly tattoos?
In fact, there is no absolutely correct answer to this question. I always think that the color you like best or best suits you is the "best." 3D butterfly tattoos have vivid visual effects! I suggest you take the following colors into consideration: attractive blue, lively yellow, gentle pink, dreamy purple, popular rainbow colors. Designs with these colors can be more eye-catching.